Custom Steel Cages are our specialty. You can tell us the dimensions you want and we'll weld it for you. Send us an E-mail with info about how you'll be using the cage. The heights, weights and dimensions of people involved. And anything else you are concerned about. If you need attachment rings added in special locations - no problem. If you want a large dance cage or collapsable one - no problem. let us know what you want and we'll give you a quote!
---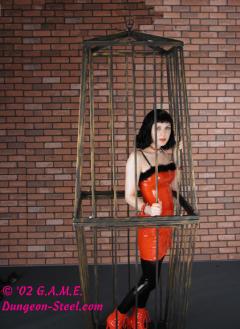 This cage is done in a custom shape, made of 100% hand welded steel, it's $2395 and weighs 110 pounds. It comes apart into two sections so it will fit through most doors. This cage has a front hinged door and a vinyl cover solid wood base. This cage is 7 feet tall, has a swivel top and can be hung from the ceiling and spun around or lifted up and can sit on the floor.
Click here to check out the cage Frequently Asked Questions Page.
Custom steel cage sizes and shapes available - click here for our custom info page.
---
This next cage was a custom job where the customer requested wheeled lockable casters so it could be freely moved around a large room, and between rooms. They also requested a few additional doors.

We designed adjustable, wheeled, locking stabilizer bars to suit these custom needs. Your finished custom steel cage is a one of kind, like no other, any way you like it.
---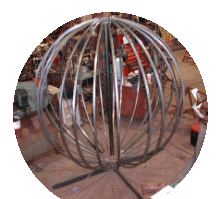 We also created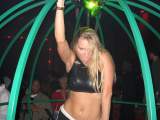 this magnificent seven foot round steel globe cage for a marketing company. They needed a large round cage to transport to different locations on a weekly basis. We were happy to oblige.
---