How much will the cage weigh?
Our cages that are 6 - 7 feet tall weigh approximately 110 -125 pounds.
How much will shipping be?
Shipping and handling charges vary depending upon the size, weight and your location. Generally shipping charges range from $150 - $300.
What color or finish will my cage be?
Basically we paint most cages black or silver. However some people prefer the look of the raw steel, which we will clear coat to keep it from rusting too much.
Galvanizing is an option that should be considered for commercial establishments that will have serious wear - galvanized provides a protective coating as found on chain link fences. - Galvanizing costs additional $1400
I am looking for two dance cages for a nightclub. I would prefer to find ones that can be hung from the ceiling - gogo style. Can you put together a quote with dimensions, prices, delivery etc.
We can create any style cage to fit your needs. All of our cages can be hung from the ceiling or rafters, some environments may require additional support / stabilization. We recommend that commercial nightclubs build a riser or stage with stairs leading up to the cages. Although its easy to build a suspension system, a cage that is easily raised and lowered with a pulley system may not be easy to dance in. You can also suspend the cage, tether it to other attachment points and use a rolling staircase or other means to get people into the cage and that should be fine.
We were wondering if you could extend the existing puppy cage out to 7 ft long?
Of course! All new cages are built to your specifications. See our custom cage info page.

How soon can we get it? Is there a charge for rushing the order?
If your order a standard size cage weíve already built it will ship the next day and takes a few days to get there. Our solid cages are shipped via truck.
Building custom sized cages generally require a week to 10 days for completion and should arrive in about two weeks. Please contact us to inquire about our current workload, we can rush your order for an additional 20%.
What kind of chains etc. do I need to hang it?
Go to the hardware store, find chain
Have you ever attached one to a motor to raise and lower it? If you have will it need to be modified? Do you know what kind of equipment I would need to raise and lower it six or seven feet.
We raise and lower the cages we build in our shop with a motorized chain and hook, available at some hardware/supply stores. They usually have two buttons on an attached control box to facilitate up/down movement. Our cages are usually built with one suspension ring, centered on the top of the cage. For dance clubs we recommend additional attachment rings on the top and bottom so you can attach rope or chain to the floor or walls to prevent excessive swaying while dancing.
*New* We are in testing and development of two new cage suspenion systems that will allow you raise and lower our cages. Send us an e-mail requesting information and you will get the fastest info about the system.
If hung, roughly how much weight can the cage hold?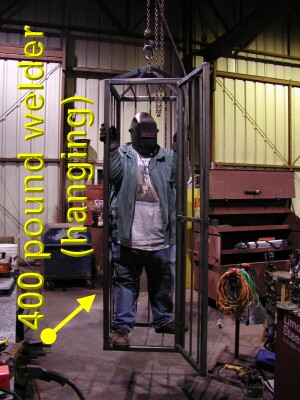 Our cages are all tested with a 400 pound welder inside. For suspended applications we recommend additional mounting points for safety measures.

All equipment should be regularly inspected for signs of wear and tear. It is up to you to maintain the equipment, and itís installation. Please keep safety in mind at all times.
If you need a professional installation we can handle any special needs you may require - contact us for details.