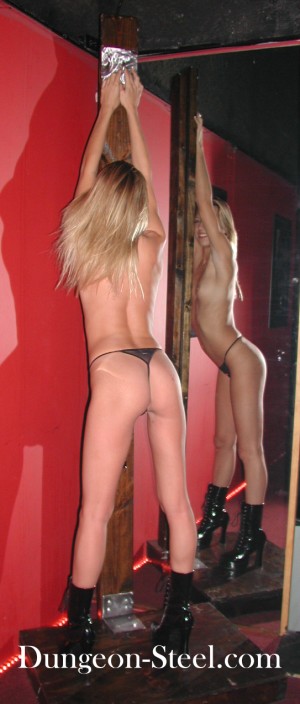 This whipping post is our first commercial whipping post design. Made of doulbed up 2x6ís with a metal plate and attachment hook on the top.
The floor sits a few inches above the ground, with the post bolted through the base in back, and bolted through the floor with a large steel bracket for added strength.
We have tested it out at several events and it will hold most people doing a pull up. (We attached a spreader bar to the hook) You can also attach cuffs or other restraints to it as well. We will add attachment points to the base for leg shackle attachments if you like.
This is a nice piece, priced at $550.
Shipping is $120 (cont. U.S.)
Dungeon Steel no longer accepts online ordering, if you wish to purchase these items please click here to buy from our partners at eros boutique.
If you would like variations on this design let us know, we do custom work!
At one of our sponsored shows we had Glen hanging upside down in ankle restraints attached to a spreader bar in this whipping post during a 10 minutes scene with mynx ;)