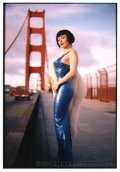 Online registration is now closed.
This is an event we sponsored in 2004!
April 9th
Doors open at 5:00pm, Class: Aural Sex 1: Seduction by Voice, begins at 5:30.

Aural Sex 1: Seduction by Voice
The brain is the biggest sex organ and the voice can be the most powerful tool to create the hottest scenes. Midori will show you how to use the hypnotic magic of the voice to seduce your lover long before you enter the bedroom or the dungeon. Learn how to suggest, command, tease and take control with the art of voice. Enjoy practical exercises, tips and secrets of aural seduction. Most of the class will address fundamentals and skills applicable to all sensual encounters. There will be a specific section of the class dedicated to voice and command techniques to enhance your SM and D/s scenes. This class applies to SM players and non-SM players alike. Demos, practical exercises, tips.
Class is over at 7:30 and everyone will be invited to attend the after party.
Booksigning at Outloud bookstore; 8:15 - 9:00pm
April 10th
Doors open at 12:30pm seminar at 1:00pm: Intro to Japanese and other creative rope bondage essentials
Intro to Japanese and Other Creative Rope Bondage Essentials
Rope bondage can be simple, elegant, effective and sensual. But if you don't know how to do it right, it can be dangerous. Midori will teach you how to use this most versatile bondage tool to maximize fun and minimize risks. Learn basic techniques such as two-column restraint, body harnesses and creative positions. She is an expert in safe and effective Japanese inspired rope bondage. There will be time for hands-on practice, so wear comfortable clothing
Break at 3pm

4:00pm Seminar and demonstration for Advanced rope bondage begins.
Advanced Rope Bondage and Rope Demo

Appropriate experience level: moderate rope bondage and bondage experience necessary
So, you've got the basics and want to try more? Want to expand your repertoire? Midori will share with you more advanced Japanese and Western rope techniques. If you want to participate in the hands-on exercise, please wear comfortable clothes and bring your rope or you can purchase the good stuff at the shop She will also demonstrate her own artful advanced rope bondage if time permits.
We will need to clear out by 6:30pm to prepare the club for it's normal Saturday night activities.
We will announce an official after party friday night

Certified DMs will be on staff.

Additional information about Midori and her classes can be found at: www.beautybound.com and www.fhp-inc.com

Several non alcohol drinks will be available including Coke, Diet Coke, Sprite, Bottled Water, Orange Juice, Cranberry Juice, Grapefruit Juice, Tonic Water, Club Soda and Ginger Ale for $2 each. Vamp Energy Drinks available for $4.

There will auctions to support the NCSF and the Leather Archives! - We raised $328.00!!!!!!!
Nashville hotel and attractions info click here!
Who is Midori? What's a fetish diva?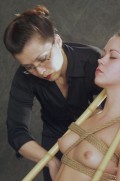 The name Midori is well-known in the worlds of SM and fetish, first as a model, then domina, and finally the highly respected author/educator/artist she is today. She wrote a book called "The Seductive Art of Japanese Bondage" which may very well have been the first book on Japanese bondage in English.
She writes erotic fiction for books and magazines, and her instructional texts have even found their way into college textbooks. She teaches around the world at universities, stores, private tutorials, and SM educational organizations. She's appeared on TV on HBO's Real Sex, Playboy TV, and many more. She's appeared in magazines that include Skin Two (UK), Marquis (Germany), Mademoiselle (US), Playboy (US and abroad), Taboo (US), Glamour, and other publications.
Midori will have copies of her book "The Seductive Art of Japanese Bondage" and her CD "Aural Seductions" available for signing as well.
This event sponsored by
Questions? E-mail us right now!